BNP Teacher "Not Intolerant". Maybe not to some, but brother, what a mouth!
Editorial comment:

By some strange twist of logic, a GTC panel has decreed that using a school laptop in school hours to describe immigrants as "savage animals" is not classed as intolerance. To understand the GTC's reasoning, read the story below. To comprehend Adam Walker's earth shattering ego, follow this link .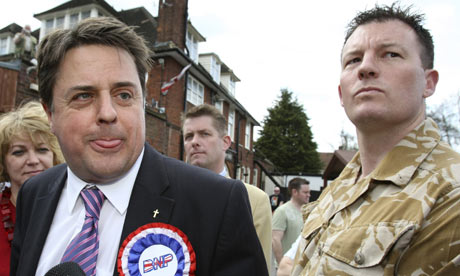 BNP activist cleared of intolerance on online comments
A County Durham BNP activist who posted comments online describing immigrants as "savage animals" while working as a teacher has been cleared of racism.
The General Teaching Council (GTC) had heard Adam Walker used a school laptop during lessons to post online.
The GTC said it was "troubled" by some postings, but was not satisfied the views were "suggestive of intolerance".
BNP leader Nick Griffin and Mr Walker were pelted with eggs by protesters after the hearing in Birmingham.
'Free speech'
One man was detained by police. Around 40 uniformed officers formed a cordon to protect Mr Walker, from Spennymoor, the first teacher to appear before the GTC accused of racial intolerance.
Mr Walker said: "It's a fantastic opportunity for everybody to see that democracy is still alive and that we still have free speech in this country."
The GTC panel found him guilty of a single charge of misconduct after he admitted using a laptop during lessons.
He will remain on the teaching register, eligible to apply for teaching posts, but Mr Walker must notify prospective employers of the terms of a conditional restriction order imposed on him. 
He resigned from Houghton Kepier Sports College, in Houghton-le-Spring, in 2007 after his head teacher asked IT staff to investigate his use of the internet.
Angela Stones, chairwoman of the committee, said: "The committee does not accept that references to 'immigrants' are of themselves suggestive of any particular views on race."
The hearing was told that in one posting, it was alleged Mr Walker claimed the BNP had risen in popularity because it was "making a stand" by "protecting the rights of citizens against the savage animals New Labour and Bliar (sic) are filling our communities with".
In a statement read to the hearing, Mr Walker stressed he had not communicated his political thoughts and beliefs to staff or pupils at Houghton Kepier.
"I have never condemned all immigrants or asylum seekers. My comments relate to those I perceive as coming to our country and committing criminal offences or otherwise behaving badly."
'Outrageously persecuted'
Anti-fascist and pro-BNP demonstrators had gathered outside the GTC's offices in Birmingham city centre.
Mr Griffin claimed Mr Walker had been "outrageously persecuted" for his political beliefs.
Asked about calls from some quarters for BNP members to be banned from teaching, Mr Griffin replied: "Teachers obviously have to keep politics out of the classroom.
"As long as they do that they should be entitled to hold whatever political views they want."   
From BBC News 26-05-10